The Book of Nehemiah is one of my favorites – it tells a story of adversity, hard work and overcoming obstacles.
Whenever we are doing the work of God, we're going to be presented with obstacles, persecution and outright lies about our character. Nehemiah had all of this thrown at him, and more.
Let's look at the sixth chapter of Nehemiah. Here we find Sanballat, Tobiah and Geshem, the three ringleaders of a group of characters who are against Nehemiah rebuilding the wall around Jerusalem.
Nehemiah was no slouch either! He held what would be comparable to Chief of Staff to the King of the Persian empire. He tasted the king's food before it got to him, he brought the king's wine to him – he was one of the few who could approach the king when not summoned, and not be killed.
Yet he also received word about the condition of Jerusalem – and he wept bitterly over it. He wept so much so, that he felt the call of the Lord to return to help with the rebuilding effort. This is covered in chapter 1,
In chapter 6, however, the rebuilding effort is practically complete – and these three characters, Sanballat, Tobiah and Geshem are about to start trouble.
Let's look at the scripture, verses 1-9:
Now when Sanballat and Tobiah and Geshem the Arab and the rest of our enemies heard that I had built the wall and that there was no breach left in it (although up to that time I had not set up the doors in the gates), Sanballat and Geshem sent to me, saying, "Come and let us meet together at Hakkephirim in the plain of Ono." But they intended to do me harm. And I sent messengers to them, saying, "I am doing a great work and I cannot come down. Why should the work stop while I leave it and come down to you?" And they sent to me four times in this way, and I answered them in the same manner. In the same way Sanballat for the fifth time sent his servant to me with an open letter in his hand. In it was written, "It is reported among the nations, and Geshem also says it, that you and the Jews intend to rebel; that is why you are building the wall. And according to these reports you wish to become their king. And you have also set up prophets to proclaim concerning you in Jerusalem, 'There is a king in Judah.' And now the king will hear of these reports. So now come and let us take counsel together." Then I sent to him, saying, "No such things as you say have been done, for you are inventing them out of your own mind." For they all wanted to frighten us, thinking, "Their hands will drop from the work, and it will not be done." But now, O God, strengthen my hands.
The three of them tried to entice Nehemiah away from the city – however, Nehemiah knew from previous experience with these three (read chapters 2 and 4 for more on their antics), that they were mighty angry with the success of Nehemiah, and he needed to be stopped. So Nehemiah didn't take the bait, if you will.
They tried four more times – all to no avail.
The fifth time, Sanballat sent a letter with a huge lie in it – that Nehemiah did this so that he could gain favor from those in Jerusalem, and thus cause an insurrection, break away from the Persian empire, and have himself crowned king.
Nehemiah wasn't looking for fame and notoriety, he just wanted to see Jerusalem – its walls rebuilt to their former glory – for the Lord's glory. He sent back a letter saying that he was wrong, that he was trying to scare the people, and that this tactic would not succeed either – in essence, he was telling Sanballat and the rest of them, "I'm not afraid of you, bring it on!"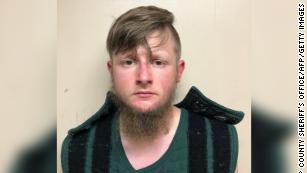 This past week, twenty-one year old Robert Aaron Long shot and killed eight people at three Atlanta massage parlors.
Without a hitch, the Washington Post and other liberal outlets including CNN, started talking reporting his connections to Crabapple First Baptist Church, and the church's affiliation with Southern Baptist Convention.
Because the perpetrator blamed a "sex addiction" and his desire to squelch it by killing off the very sex workers in these salons – which he frequented in the past apparently, the news media started digging into his faith background, and making a case against Christianity, based on his family's affiliation with Crabapple and the SBC.
The SBC, having a strict policy on men-only in leadership positions was made prominent in these articles – thus attacking the church and the denomination, instead of dealing with the perpetrator, and why he really committed these crimes of murder.
I'm not a huge fan of the SBC – in fact I'm not a fan of denominations at all. The SBC has many liberal policies, but it still has fine Bible-believing policies that I admire. They still subscribe to the fundamentals of the faith: the virgin birth, the death, burial and resurrection of Jesus, and so forth. However, neither the SBC, nor the church is on trial here – the press is putting them on trial however, to persecute Christians.
This persecution has caused the church to take down their Facebook page and take their website offline temporarily because of the backlash over this – the hate speech against the church, blaming them for this incident, was horrible.
This was not the fault of the church – this was the fault of the individual, who should pay the earthly cost for his crime.
Nehemiah was being persecuted in much the same way. His persecutors lied about him, the same way the media lied about the story on this murder.
Nehemiah's building the wall to go against the empire and make himself king… No, he rebuilt the walls because Jerusalem needed them rebuilt – because the Lord called him to do so.
The man killed these women because he was a Southern Baptist, and a Christian, and these sex workers deserved it… No, he killed these women because he was a raving lunatic, who is refusing to take responsibility for his actions. Because most of the women are of Asian descent, it was probably a hate crime. They'll probably bring "white, Christian nationalism" into this because the guy is Caucasian.
And of course, this feeds right into the "gun control" lobby. No, criminals like this guy kill people, not law-abiding and responsible gun owners. Focus on the criminals – and leave responsible people alone!
Verses 10-14:
Now when I went into the house of Shemaiah the son of Delaiah, son of Mehetabel, who was confined to his home, he said, "Let us meet together in the house of God, within the temple. Let us close the doors of the temple, for they are coming to kill you. They are coming to kill you by night." But I said, "Should such a man as I run away? And what man such as I could go into the temple and live? I will not go in." And I understood and saw that God had not sent him, but he had pronounced the prophecy against me because Tobiah and Sanballat had hired him. For this purpose he was hired, that I should be afraid and act in this way and sin, and so they could give me a bad name in order to taunt me. Remember Tobiah and Sanballat, O my God, according to these things that they did, and also the prophetess Noadiah and the rest of the prophets who wanted to make me afraid.
Also remember, that there will be those who will try to deceive you into thinking that your work isn't a calling.
In this case, Shemaiah, contacted Nehemiah and offered to hide him in the Temple, lest he be killed by Sanballat and Tobiah. Nehemiah refused knowing full well that this work was of God, and he will not shy away. He also knew that Sanballat and Tobiah put him up to this, to strike fear into those doing the work.
When we're met with persecution, when we're met with opposition to our faith – do we cut and run? The Sanballats, Tobiahs and Geshems of the world would like nothing better to see us turn tail and take off.
But God says in Colossians 3:23-25, "Whatever you do, work heartily, as for the Lord and not for men, knowing that from the Lord you will receive the inheritance as your reward. You are serving the Lord Christ. For the wrongdoer will be paid back for the wrong he has done, and there is no partiality."
In other words, once you're saved, you're in Christ's army – and whatever you do in life, you work for Him, and only Him. Any persecution that comes your way, as it says in verse 25, will be repaid for the wrong that was done.
So – stand strong Christian, and be discerning on what the media says, because remember that Obama said that we have to watch those "gun loving, bible toting, Christians" – that's what started it, but Jesus will have the last say – either here, or seven years after the Tribulation ends.
For we shall all stand before the judgment seat of Christ. For it is written (in Isaiah 45-22-24), "As I live, says the Lord, Every knee shall bow to Me, and every tongue shall confess to God." (Romans 14:10-11 NKJV)
Again, it gets back to who will you be serving?
Don't shirk away from your responsibility to the Lord – even under persecution.